21 March 2022 – 01 April 2022
Judiciary of Kenya Executive Leadership Development course delivered in London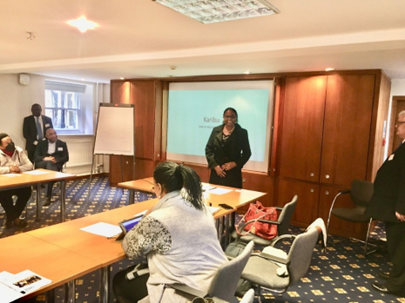 Opening address by Hon. Lady Justice Martha Koome Chief Justice and President of the Supreme Court of Kenya at the Institute of Directors, Pall Mall, London on Monday 21 March 2022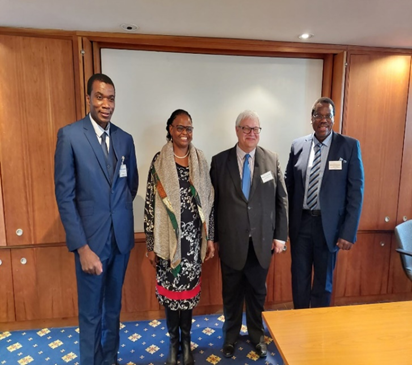 CMEUK Team comprised of Arthur Lewanika IT and Administration Manager, Maurice Diamond Director of Studies and Godwin Lewanika Managing Consultant with Hon. Lady Justice Martha Koome the Chief Justice and President of the Supreme Court of Kenya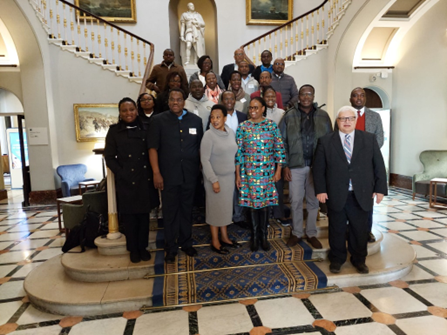 Front row from left Hon Anne Amadi Chief Registrar High Court, Godwin Lewanika CMEUK Managing Consultant, Hon. Lady Justice Philomena Mwilu the Deputy Chief Justice, Hon Lady Justice Martha Koome the Chief Justice, Hon. Mr. Justice Smokin Wanjala and Maurice Diamond CMEUK Director of Studies
History of the place where photo was taken:
In 1820, the Prince of Wales vacated his London residence at Carlton House to live at 116 Pall Mall, London in preparation for his accession to the throne as George IV.
https://www.116pallmall.com/news/9-things-you-wont-believe-about-116-pall-mall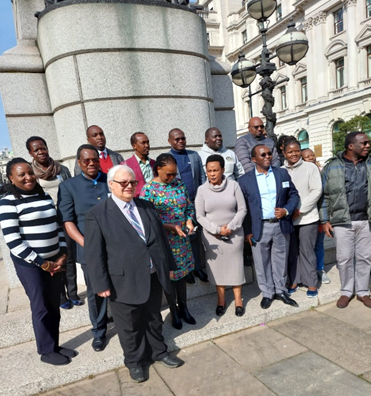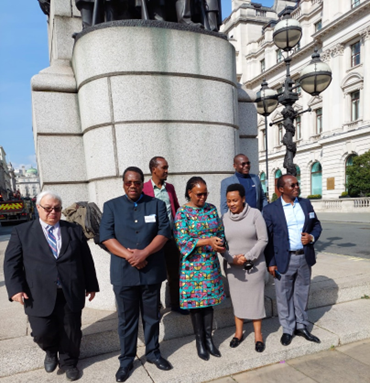 Front row from left, Maurice Diamond, Godwin Lewanika, Hon. Lady Justice Martha Koome, Hon. Lady Justice Philemona Mwilu, and Hon. Mr. Justice Daniel Musinga. Standing at the back Mr. Boru Wako and Mr. Kennedy Ogutu
Photo taken at Waterloo Place: The Guards Crimean War Memorial, St James's , this faces the statue of Florence Nightingale who came to public prominence with her work in the Crimea and at the military hospital at Scutari. "First Public Statue of a Woman in London" – the statue of Florence Nightingale: 1915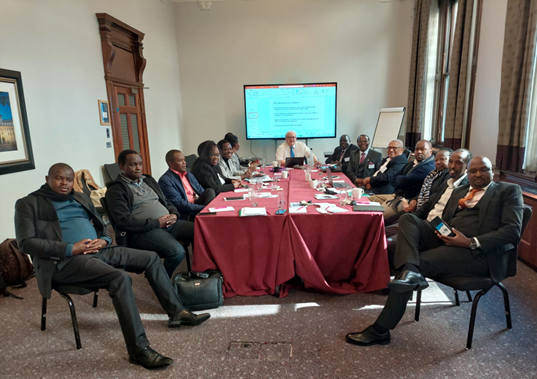 Photo taken during Governance session with Maurice Diamond at Club Quarters London 24 March 2022
November 2021
November 2021 in London CMEUK delivered a comprehensive two-week course covering Financial Management, Planning, Budgeting, Public Private Partnership (PPP) and International Public Sector Accounting Standards (IPSAS).
The course which had been rescheduled from 2020 due to Covid lockdown was held as soon as the Southern African Countries were removed from the UK's Covid red list, in attendance were officials from the Government of Botswana. It was wonderful to get back into formal in class training after nearly 2 years of shut down, albeit only for a short period.
On our courses, we ensure our delegates have a most uplifting and memorable time, hence, to crown it all we always include a group tour of interesting places/attractions in London.
Here we are in 2022 and look forward to being of continued service to the public sector in Africa by way of training and provision of management consultancies.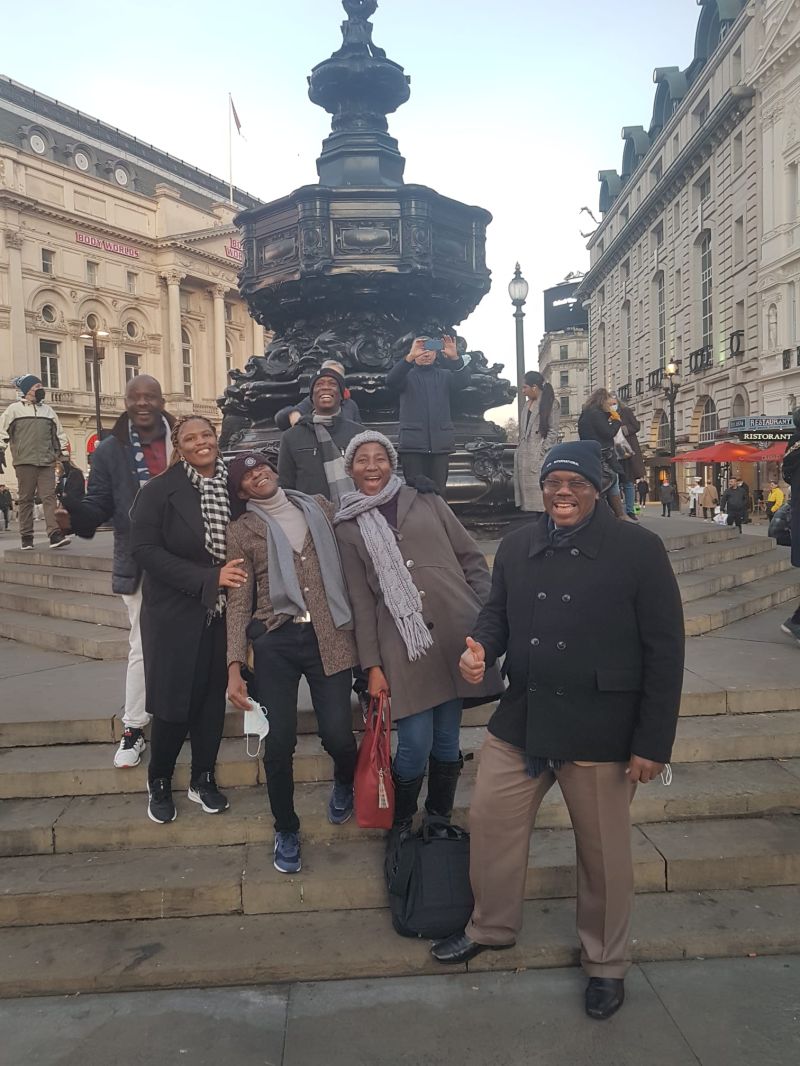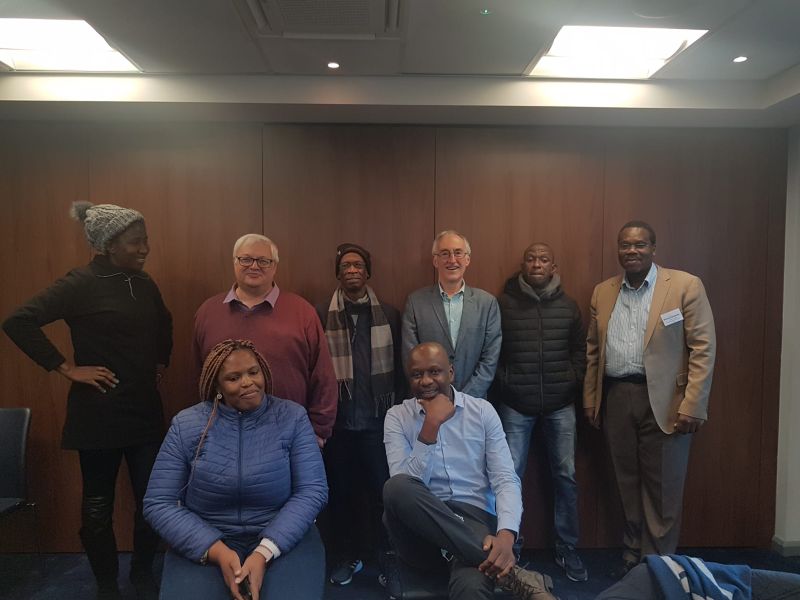 February 2020
Delegates from the Ministry of Mineral Resources, Green Technology and Energy Security Botswana with CMEUK's leadership management consultant/trainer Joel O'Loughlin and Country Manager for Botswana Maubrey Pitso at the end of Organisational Change Management Course at Gaborone International Conference Centre (GICC), Grand Palm, Botswana.
January 2020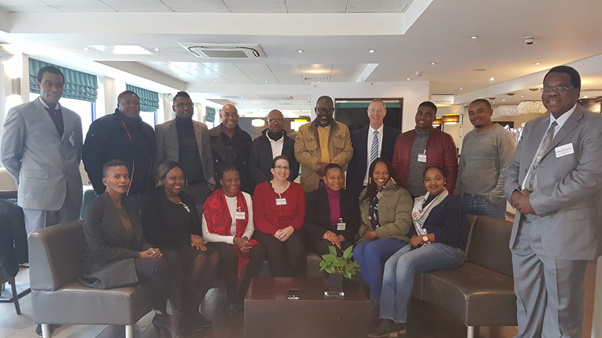 Combined photo of delegates from Ministry of Health and Wellness Botswana attending Systems Thinking and Monitoring and Evaluation as well as from National Assembly Botswana on Executive Leadership Development Programme (ELDP) in London
September 2019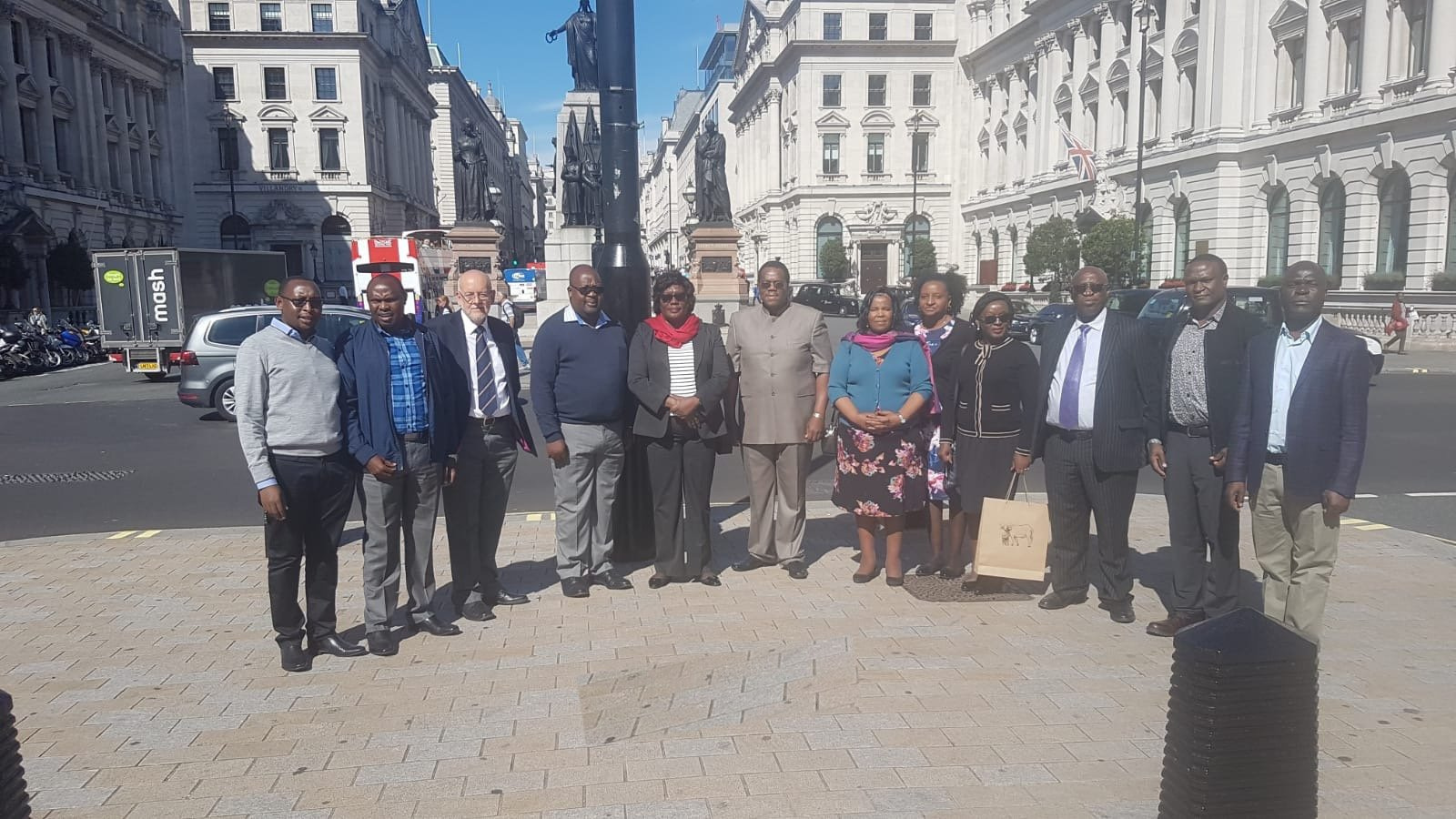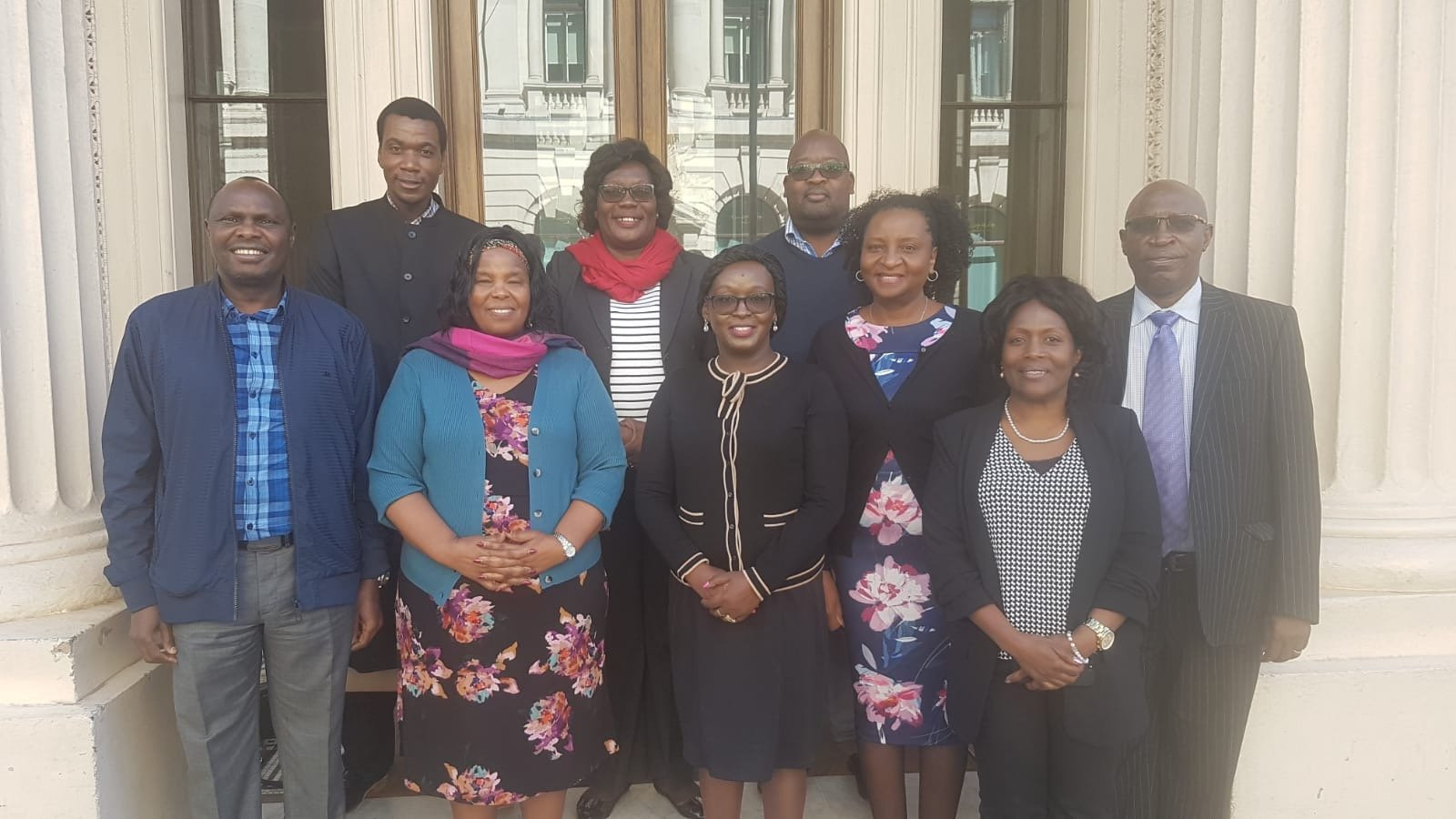 Training at the Institute of Directors (IOD) Pall Mall London on, "Judicial function and Judicial Administration" for Commissioners and Staff from the Judicial Services Commission of the Republic of Kenya
August 2019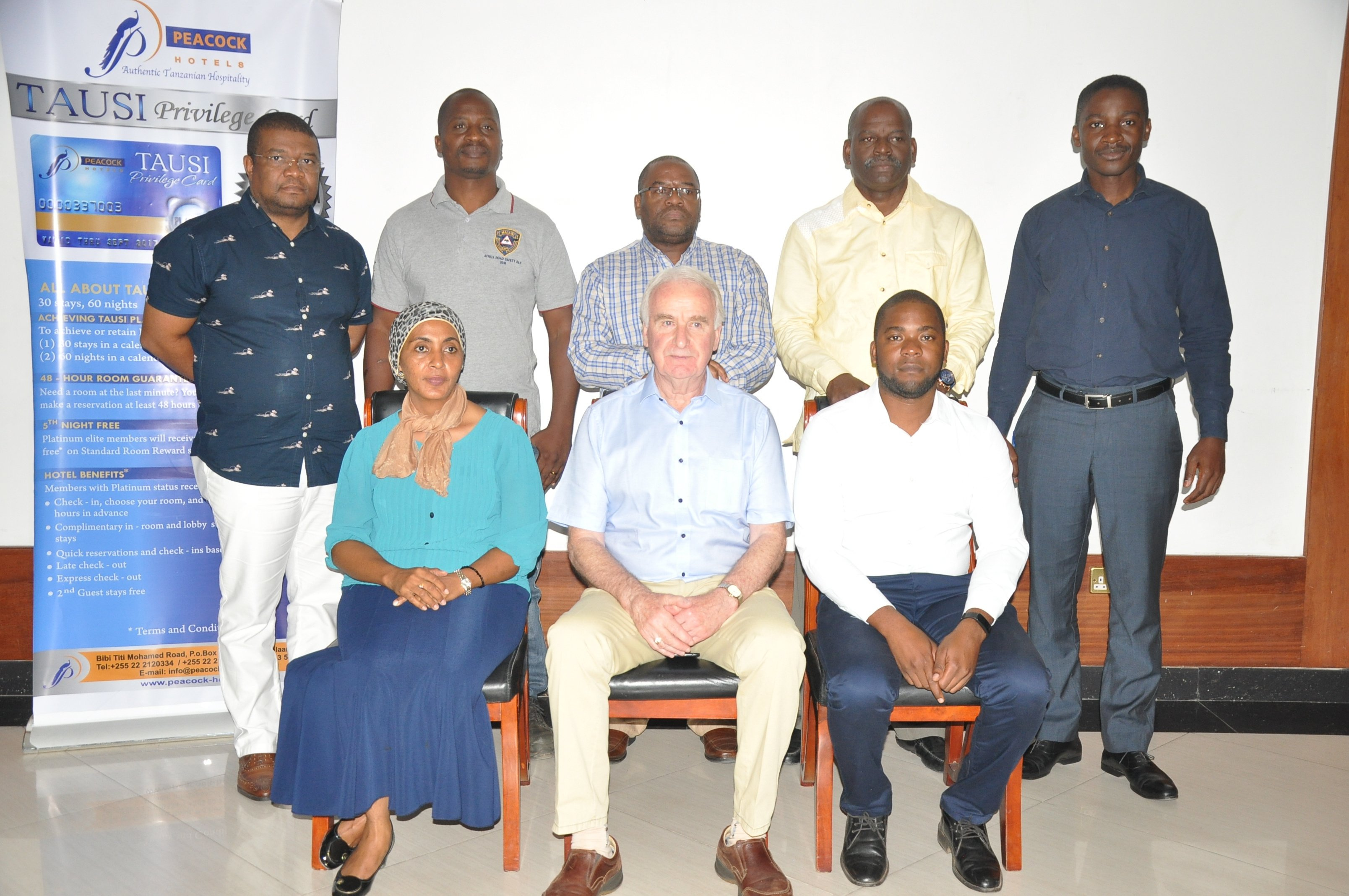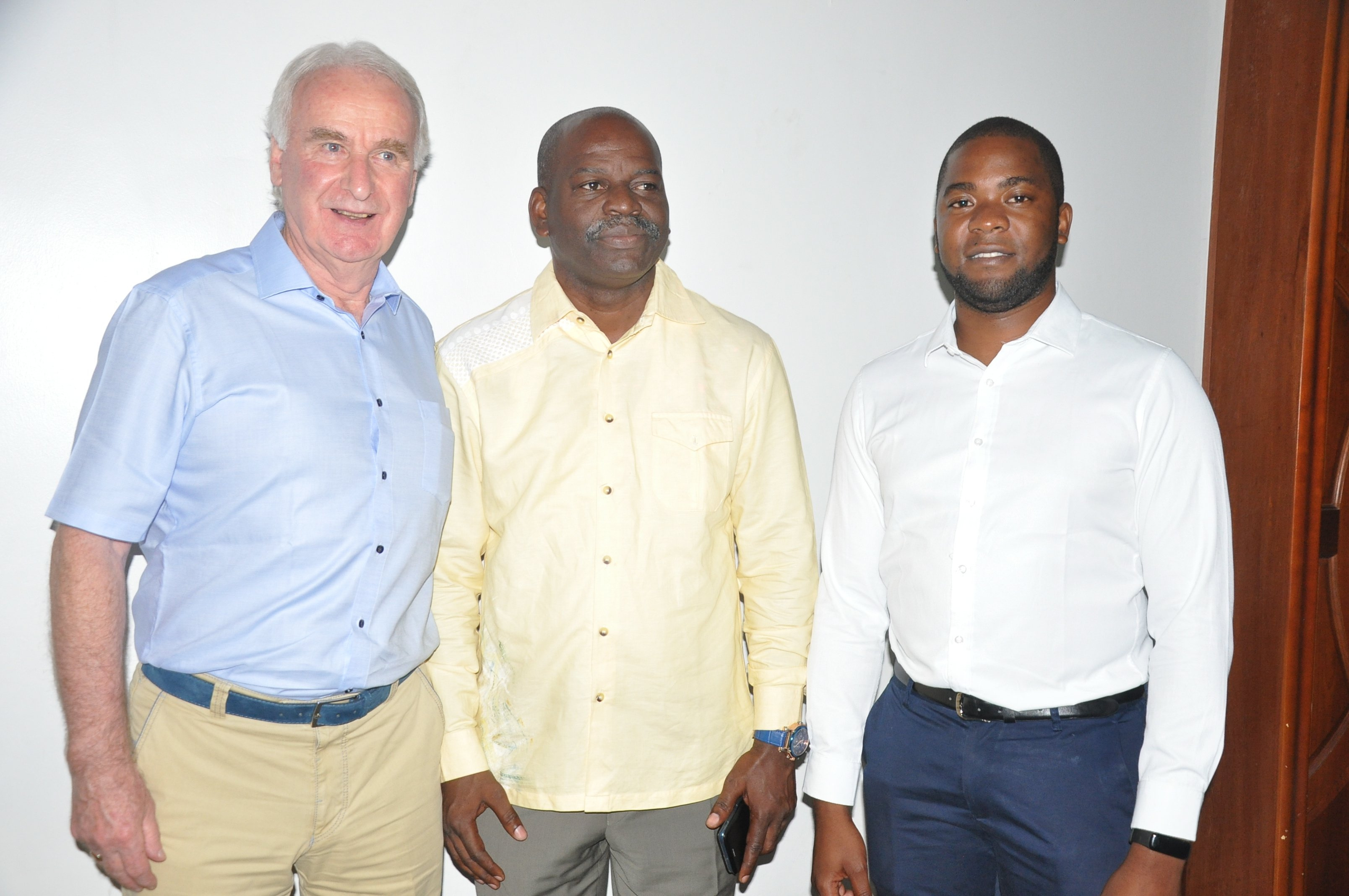 Photos of delegates with CMEUK management consultant, James Joseph Killian and CMEUK Tanzania Country Manager, Daproser Abeid Hamza
CMEUK delivered the first Southern African Railways Association (SARA) Regional Transport, Maritime and Logistics Course
at Peacock Hotel in Dar es Salaam, Tanzania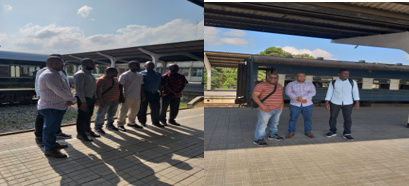 Study Tour to Tanzania Zambia Railways Authority (TAZARA) for delegates on the Southern African Railways Association (SARA) Transport, Maritime and Logistics -at train depot
May 2019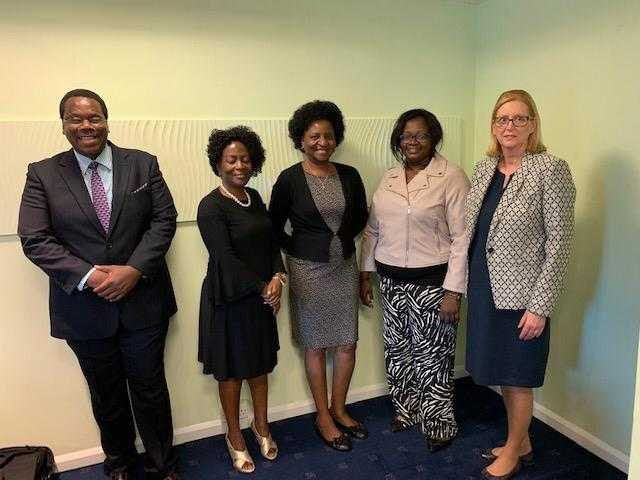 Photos with senior officials from the Judiciary of Kenya on Leading and Implementing Change Course in London
April 2019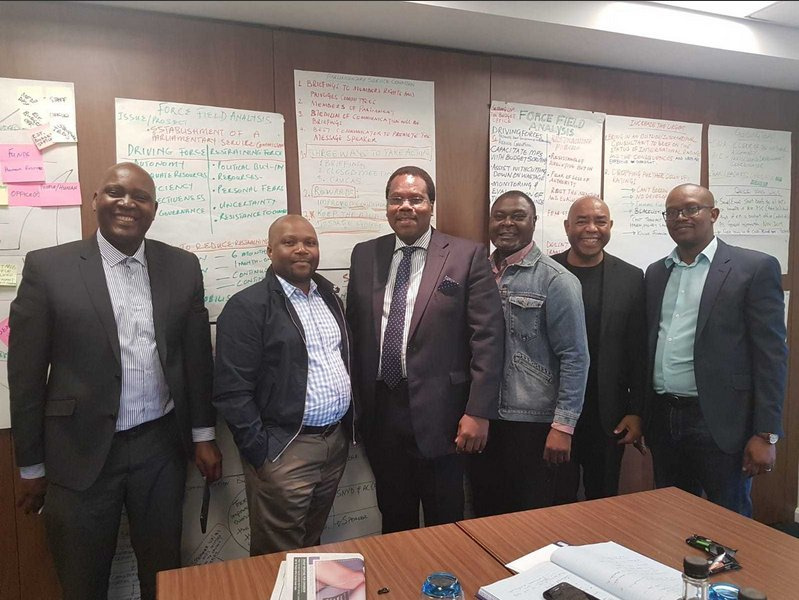 Group photo with senior officials from National Assembly of Botswana on two weeks Executive Leadership Development Programme (ELDP) in London.
August 2017
Labour Market Analysis, Stakeholder Consultations, Report Writing and Integrated Training for Entrepreneurship Promotion (INTEP) took place at the VETA Hotel and Tourism Training Institute (VHTTI) Njiro Hotel in Arusha from 21-26 August 2017.
The course was facilitated by Dr. Mushiba Nyamazana of CME UK Ltd and Mr. Ahmed Athumani, the local consultant.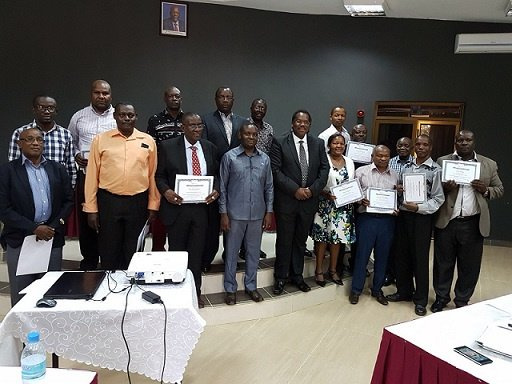 Workshop was officially closed by Arusha Regional Administrative Secretary, Mr. David Mwamposa standin
July 2016
Centre for Management Excellence UK (CMEUK) delivered training on Leading and Implementing Change for Tanzania Revenue Authority's Commissioners, Deputy Commissioners, Directors and Operational Managers. Held at Oceanic Bay Hotel, Bagamoyo from 11 July 2016 to 19 July 2016

Second group photo: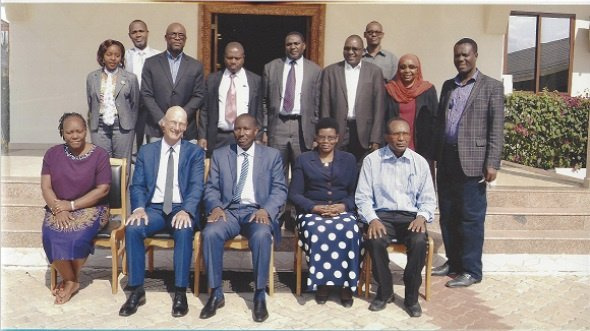 First group photo: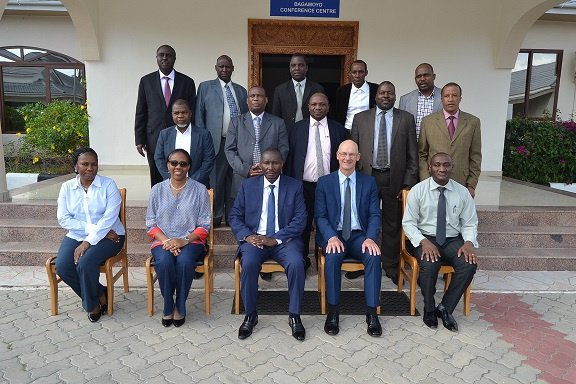 June 2016
During the last week of June 2016 we delivered a workshop on, "Forensic Auditing and Fraud Management" for 31 board members and policy makers of the Vocational Education and Training Authority (VETA) a parastatal under the Ministry of Education and Vocational Training Tanzania.
The programme was held at VETA Hotel and Tourism Training Institute (VHTTI) in Njiro, Arusha, Tanzania.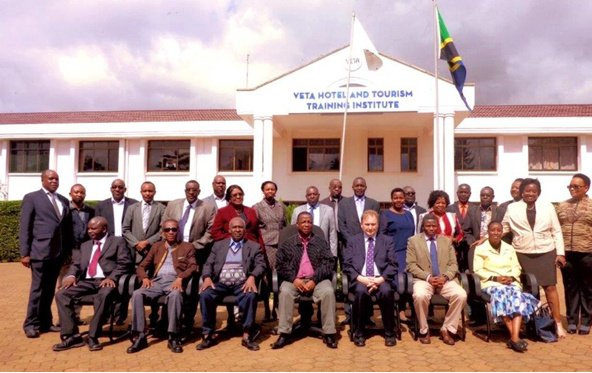 August 2015
Study tour on P3 projects to Government of Alberta, Canada by Prime Minister's Office Regional Administration and Local Government (PMO-RALG) Tanzania arranged by CMEUK, featured on the Alberta International and Intergovernmental Relations website:
http://international.alberta.ca/AIDO.cfm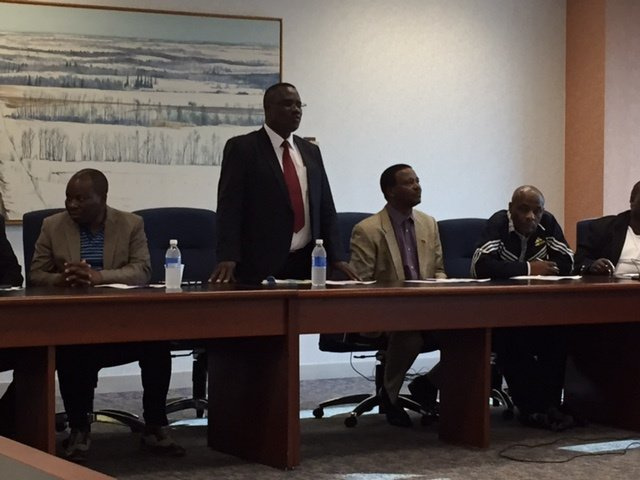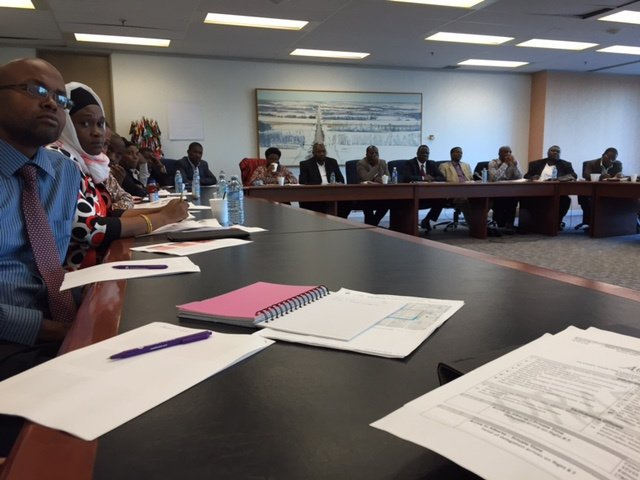 Photos Courtesy of Government of Alberta
March 2015
Gaborone, Botswana
As part of team building during the consultancy skills workshop we organised a game viewing tour for our delegates at the famous Mokolodi Nature Reserve near Gaborone. It was a very enjoyable experience which added flavour to the entire programme.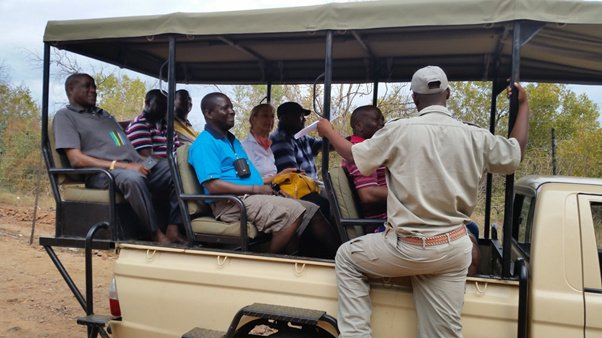 September, 2014
New Business Development visits to Rwanda and Uganda
Godwin Lewanika visited Rwanda and Uganda to position CMEUK service offering to the two Countries as a way of consolidating the East Africa market.
Rwanda is a key and emerging market offering a lot of opportunities in field of Learning and Development among other services.
The visits were very fruitful and a significant milestone for CMEUK, resulting in appointment of a Country Manager for Uganda and developing of a liaison office for Rwanda.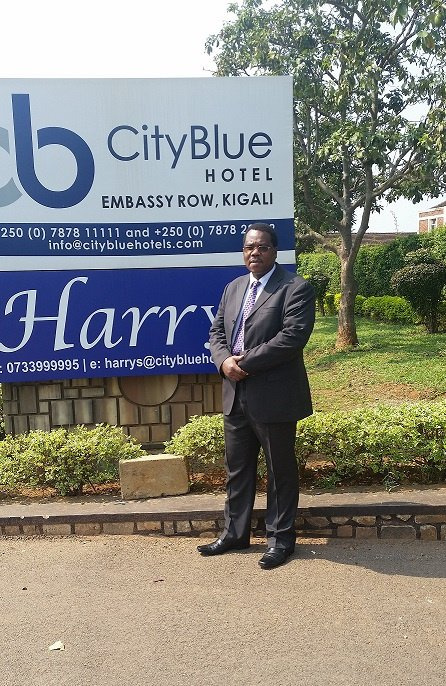 August, 2014
Centre for Management Excellence UK appoints Mr. Emmanuel Lubandi as Country Manager for Uganda
Mr Emmanuel Lubandi is a Fellow of The Association of Chartered Certified Accountants (FCCA). He holds a Masters of Business Administration majoring in Human Resource Management MBA (HRM), a Bachelor of Commerce Degree (Accounting), and a Post Graduate Diploma in Computer Science. Mr Lubandi has attended several short courses, workshops and seminars in various fields.
He served as The Manager Finance and Administration / Company Secretary in Uganda Electricity Generation Company for more than 12 years till this year when he left to be fully engaged in private enterprise, before that he was The Director Finance & Administration / Company Secretary in Uganda Investment Authority. He worked in Uganda Development Bank for 9 years and at the time of his exit he was The Accounts Manager. He briefly served as a Teaching Assistant at Makerere University before taking up a full time job in the Bank.
He has helped to develop several company policies and procedures in HRM, Procurement, Stores Management, Financial Management and Accounting, Auditing, and ICT; he has developed several Executive and Management Information Systems.
July 2014
We delivered consultancy and a benchmarking study tour on Best Practices in Human Resource Management in London, for Directors from Office of the Prime Minister (PMO) Namibia. Visits were undertaken to Local Government, Department of Works and Pensions (DWP) and South East Employers (SEE) for knowledge sharing as well as practical experience.
June 2014
In Namibia, we successfully concluded the consultancy on Policy Analysis and Formulation and training for National Planning Commission (NPC), Government of the Republic of Namibia. The training was conducted within the context of the EU's Capacity Development Programme (CDP).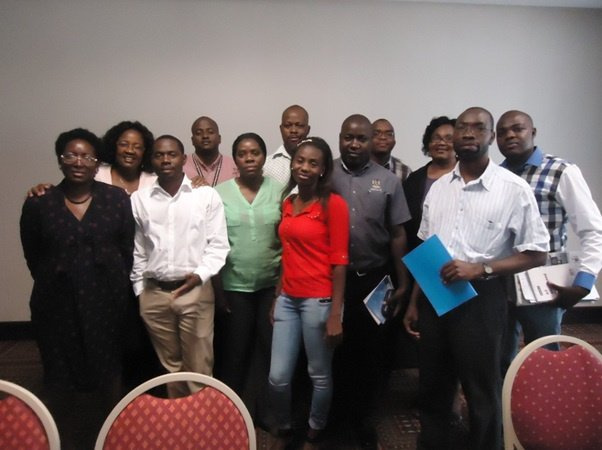 Photo of President's Office, National Planning Commission (NPC) Namibia officials on Policy Analysis and Formulation training with our regional consultant Gertrude Ngenda first on the left front row
April 2014
Centre for Management Excellence UK (CMEUK) hosted a two weeks programme on "Improving Public Service Delivery" at the Institute of Directors 116 Pall Mall London to a visiting delegation from Prime Minister's Office, Regional Administration and Local Government (PMO-RALG) Tanzania.
CMEUK featured 6 highly experience UK based consultants/speakers. The chairman and main speaker at the meeting was Mr. Tony Lavender a former senior administrator at Cabinet Office UK who also served as Deputy Director of UK Civil Service College. Tony is an accredited DFID Governance Consultant who has delivered consultancies in over 20 Countries abroad including Tanzania.

The panel of discussants included CMEUK's senior consultant Dr. Richard Hale a Leadership and Management expert who provided consultancy on Needs Assessment for Tanzania Public Service College (TPSC) in 2011 sponsored by the Commonwealth Secretariat. Dr. Richard Hale in 2012 led CMEUK's consultancy on Public Sector Reform to Cabinet Office, Government of the Republic of Zambia funded by the World Bank.

Between March and April we also organised 3 weeks programme for TAMESI's project engineers in Kuala Lumpur Malaysia covering; Project and Programme Management, Monitoring and Control as well as Strategic Planning. The Malaysia programme included a Benchmarking/knowledge sharing visit to MMC Corporation the largest Engineering and Construction Company in Malaysia as well as to SMART Tunnel.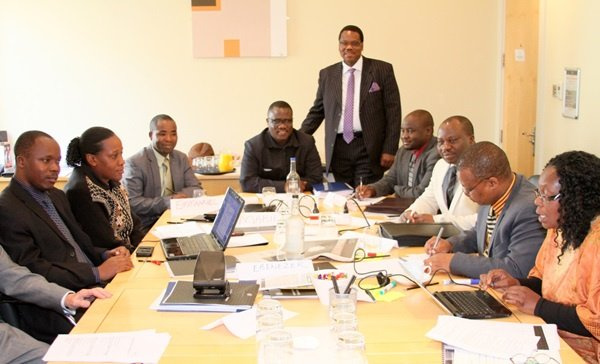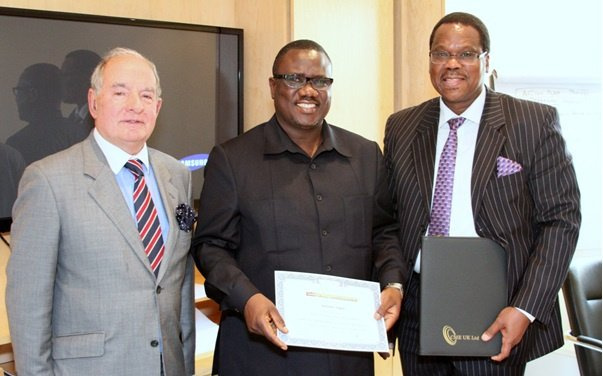 February 2014
Centre for Management Excellence UK appoints Mr Kwaku D. Amporfu as Country Manager for Ghana. Kwaku holds a B.A. (Hons) Degree from the University of Ghana and an M.B.A. from the University of Pretoria, Pretoria, and R.S.A. He has over 25 years' service in the public sectors (public finance & education) of both Ghana and the Republic of South Africa. Kwaku is currently a private management consultant based in Accra-Ghana and his specialities are in the Investment Banking sector, organisational development challenges & public policy issuees.